Welcome to Action 4 Schools
A huge thank you to companies that have bought a £200 booklet so far….
Abacus
Interbuild
Calpe Pharmacy
Finsbury Trust 
GM International Homes
Latino's Casemates
My Wines
————————————-
emergency appeal
With your help we have been supporting the community in Regent since 2006, building new schools, providing access to safe water, latrines, school materials and health care. We will continue to support this needy community and especially those worse affected by this terrible tragedy on a long term basis.
Anyone wanting to make a difference to the lives of those affected by this terrible tragedy is welcome to make online donations directly to our bank account or through our Just Giving page. We have committed to help those children that have become orphans and that have lost everything and are appealing to supporters to sponsor these vulnerable and needy children on a monthly basis.
Thank you for your support, every penny we receive will hit the ground, 100% guaranteed.
ACTION4SCHOOLS
NATWEST BANK, GIBRALTAR
SORT CODE 60-60-60
ACCOUNT NUMBER 48084352
https://www.justgiving.com/action4schools-sl
——————————————–
Help us raise funds for new water wells and school projects…
 Current projects underway…. 
4 new water wells in Kenema (2), Newton (1) and Kaningo (1)
New water well at Heaven Homes Orphanage School, Joe TownNewton
Provision of 60 pairs of shoes to Heaven Homes Orphanage School, Joe Town, Ne
5000 litre water tank at Lady Patricia Kabbah Primary School, Regent
5000 litre water tank at Ivor Leigh School, Kaningo
———————————————————————————-
Our latest project is the shoe project….
                                        "the shoe that grows"
 ————————————————————
AQUAGIB PARTNERSHIP
22nd March 2017
We are delighted to announce that Gibraltar's water provider AquaGib have entered into a partnership with our charity.  AquaGib will support our water projects and the company's General Manager Paul Singleton presented a cheque to the charity for £3,000 to celebrate UN World Water Day 2017, enough to provide a new water well in Sierra Leone.
Thank you AquaGib !!
 http://www.action4schools.gi/water-well-projects2/
—————————————————————————————————–
Local singer Ashley Baglietto has released a charity single titled "I believe".
You can view it on You Tube
Ashley is raising funds for Action4schools-Sierra Leone with all the funds raised going towards our water well appeal. Please call 8604 to donate £1 towards his fundraiser or buy the CD that is now available at only £5.
Place your orders via e-mail on info@action4schools.gi or call 57631000
The song is also available on iTunes at 79p per download, the link follows:
These are Ashley's own words when introducing his song… "I believe together we can achieve great things, but before we can change the world we must look at ourselves and become the change that we want to see". Inspiring words and inspiring song… please help Ashley raise funds by calling 8604 now.
Thank for supporting Ashley and please share so that we can provide a new well to a needy school as soon as possible.
Ashley's website: http://ashleybaglietto.wixsite.com/ashleybaglietto
————————————————————————————————————————————–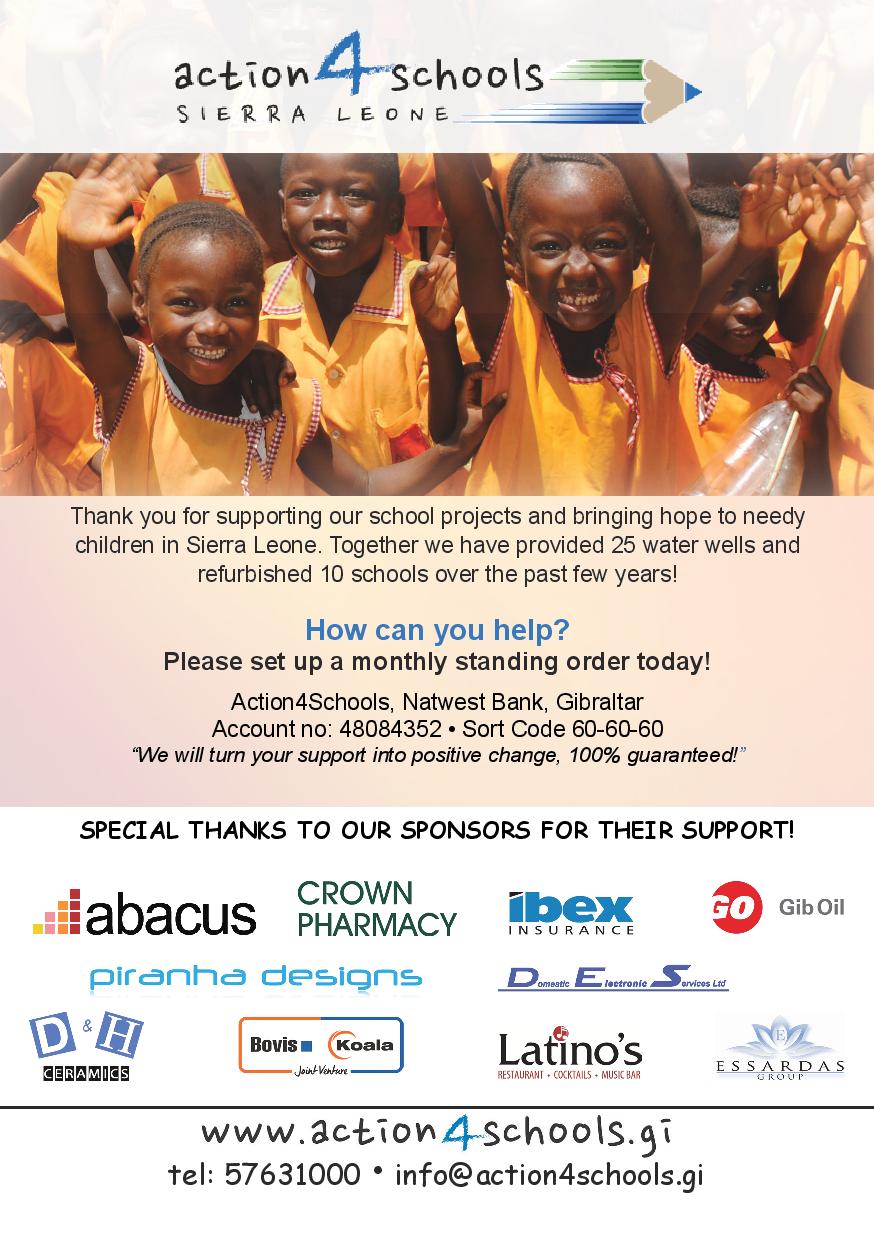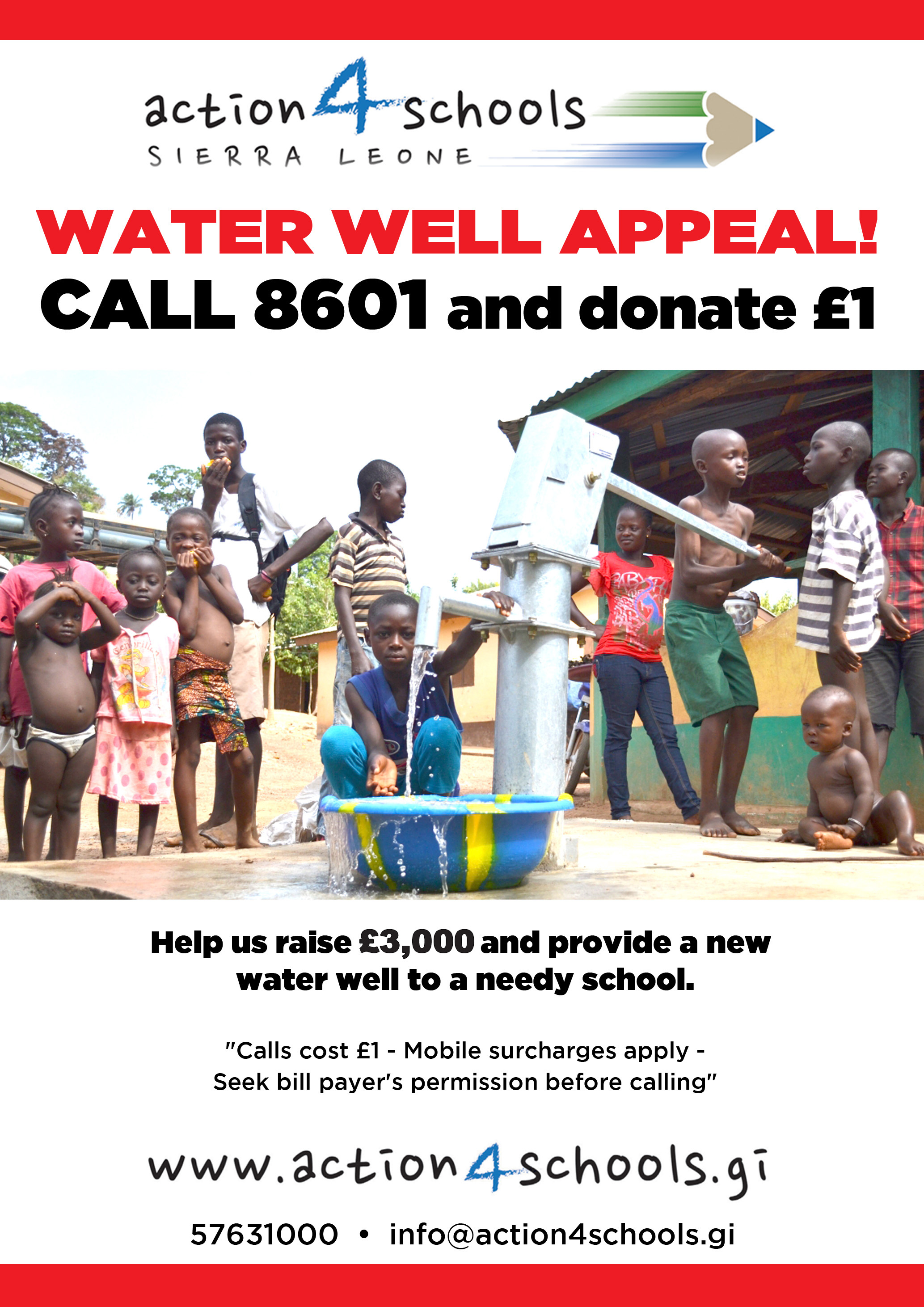 If you would like to make a regular difference, please consider setting up a monthly standing order. Please don't wait for others to do it, "action turns hope into reality"
Please set up a monthly bank standing order:
NATWEST BANK LINE WALL ROAD, GIBRALTAR Account Number: 48084352 Sort Code 60-60-60
We will turn your financial support into real, positive change, 100% guaranteed
————————————————————————————————————-
"One day we will all go from here…. when it is my turn I want to go knowing I thought about and DID something about others who had a rough ride during their lifetime"
Jimmy Bruzon, Founder