Welcome to Action 4 Schools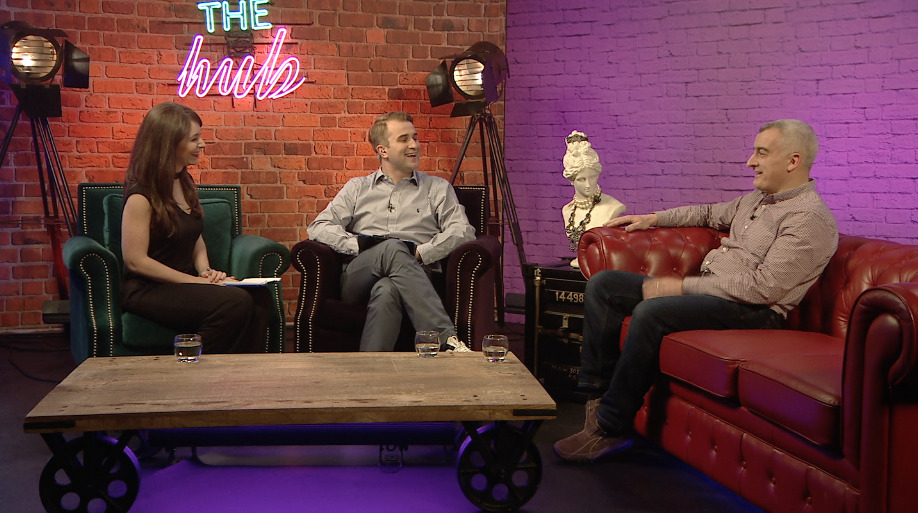 GBC TV Programme Appearance "The Hub"
Jimmy Bruzon was invited on the programme to discuss fundraising and projects, you can see the programme here:
http://www.gbc.gi/tv/programmes/hub-143
Fast forward the programme to minute 33
————————————————————————————————————————————————————————————————
ABBA Charity Tribute Night 24th March 2018

http://www.action4schools.gi/event/abba-tribute-24th-march-2018/
—————————————————————————————————————————————————————————————————–
Winning Car Raffle tickets follows:
1st – 2551    M Morales
2nd – 4603    H Pinna
3rd – 4900    J Fa
4th – 3730    M Martinez
5th – 2816    G Rodriguez
6th – 3405    A Felipes
7th – 3024    P Edge
8th – 3073    K Madeira
9th – 3438    D Podesta
10th – 3831   L Calvente

We sold all 5000 car raffle tickets ! Together we have raised £34,000 for our school water projects.
The funds raised will be used to provide 10 new water wells in Sierra Leone during 2018
Thank you for your amazing support !
A huge thank you to companies that bought booklets and sponsored….
Abacus
AquaGib
Bassadone Motors
Calpe Pharmacy
EY
Finsbury Trust
Gebr. Onderwater PK Trucks
Gibraltar Crystal
Golf Experience
GM International Homes
Hill Property
Interbuild
Latino's Casemates
LPS
My Wines
Piranha Designs Gibraltar (PDG)
Pollos La Casita (Laguna Estate)
PwC
Ramsons
Specialist Medical Clinic
Terramar Networks
Time Out
—————————————–
Make a long term difference by setting up a bank standing order today….
NatWest Bank
ACCOUNT NUMBER 48084352
Sort Code 60-60-60
—————————————–
Help us raise funds for new water wells and school projects…
 Recent projects…. 
New water wells in Kenema (2), Newton (2), Waterloo (4)
Building 6 classroom school at Lady Patricia Kabbah Primary, Hill Station
5000 litre water tank tower & Latrines at Lady Patricia Kabbah Primary, Hill Station
Provided 60 pairs of shoes to Heaven Homes Orphanage School, Joe Town, Newton
5000 litre water tank tower at Ivor Leigh School, Kaningo
——————————————————-
Our shoe project….
                                        "the shoe that grows"
 ————————————————————
AQUAGIB PARTNERSHIP
22nd March 2017
We are delighted to announce that Gibraltar's water provider AquaGib have entered into a partnership with our charity.  AquaGib will support our water projects and the company's General Manager Paul Singleton presented a cheque to the charity for £3,000 to celebrate UN World Water Day 2017, enough to provide a new water well in Sierra Leone.
Thank you AquaGib !!
 http://www.action4schools.gi/water-well-projects2/
—————————————————————————————————–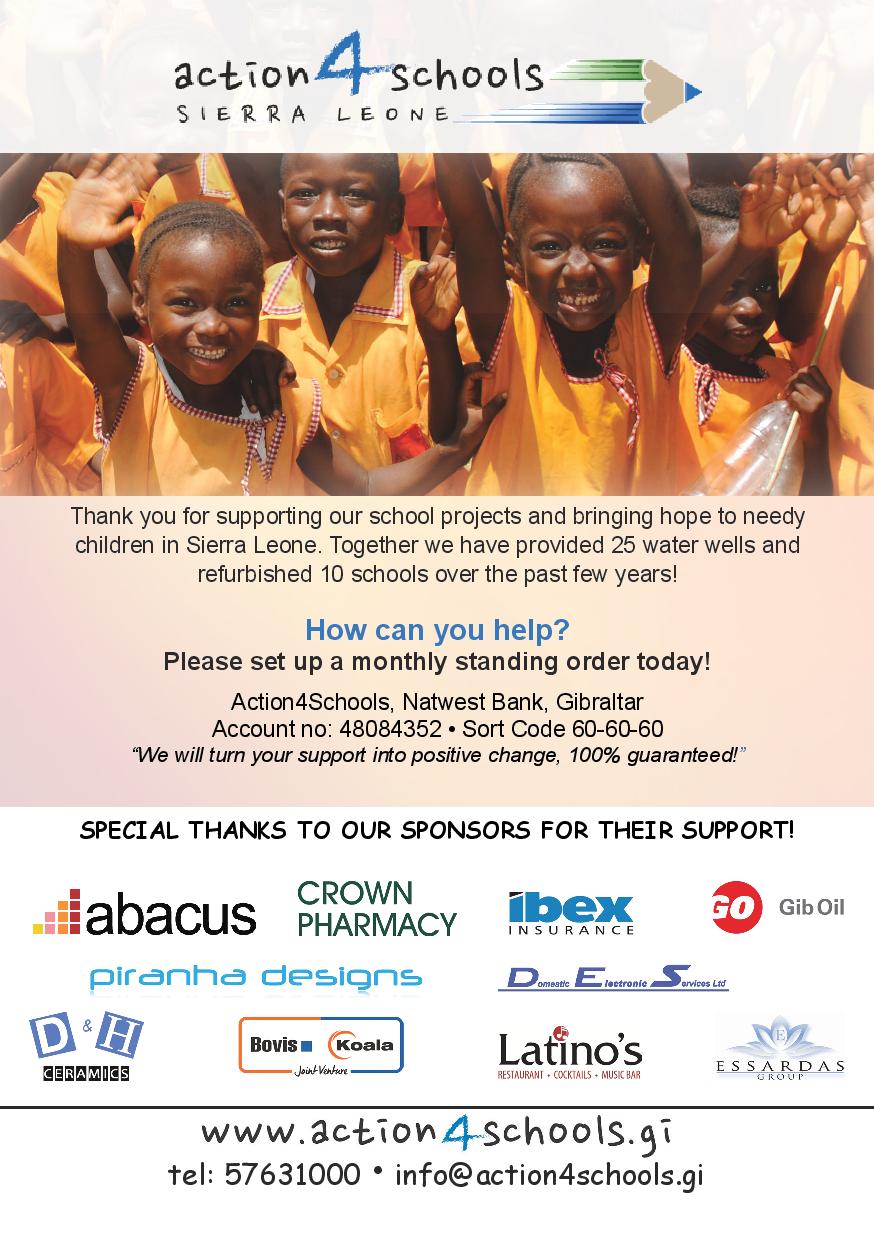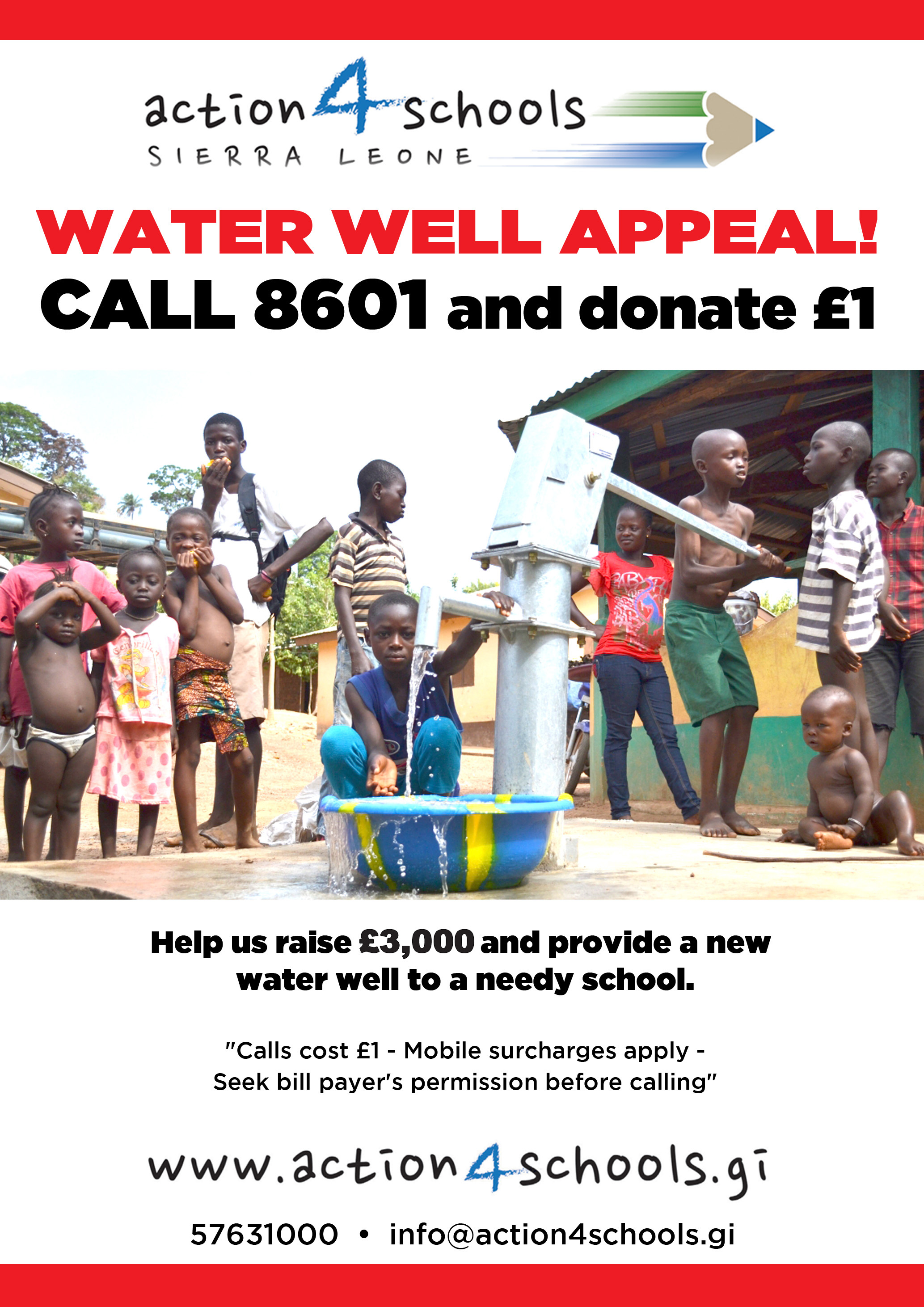 If you would like to make a regular difference, please consider setting up a monthly standing order. Please don't wait for others to do it, "action turns hope into reality"
Please set up a monthly bank standing order:
NATWEST BANK LINE WALL ROAD, GIBRALTAR Account Number: 48084352 Sort Code 60-60-60
We will turn your financial support into real, positive change, 100% guaranteed
————————————————————————————————————-
"One day we will all go from here…. when it is my turn I want to go knowing I thought about and DID something about others who had a rough ride during their lifetime"
Jimmy Bruzon, Founder