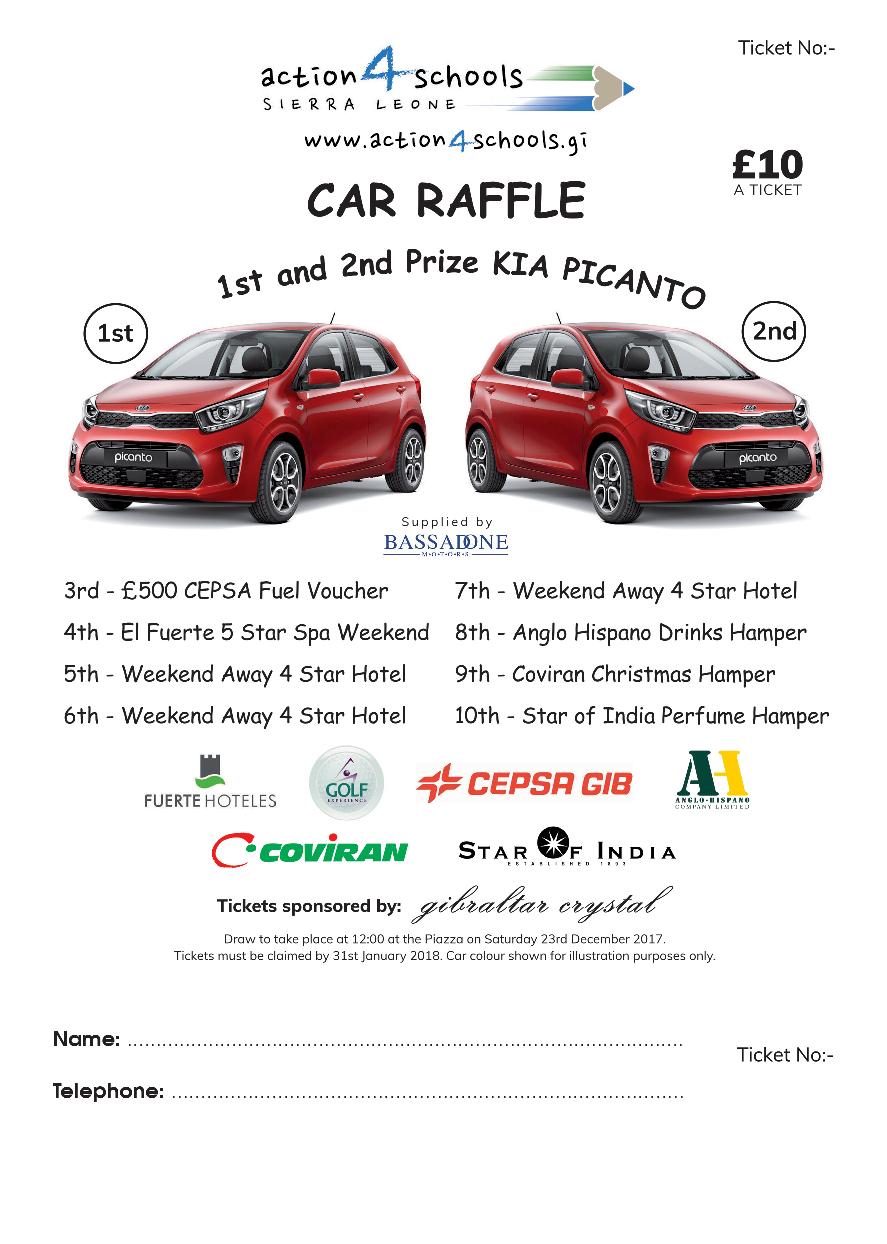 The car raffle organised during 2017 proved to be a huge success and raised £34,000 enough to provide 10 new water wells to needy schools !
Raffle organiser Jimmy Bruzon was delighted with the result…. "The success of the raffle was down to the huge effort put in by the community as a whole, we believe this is the first time that two cars have been raffled in one draw and this helped to raise the interest in tickets but selling 5000 tickets in four months was always going to need something special from the community and we are so pleased with the result. Some ticket booklets were sold to companies but the majority of tickets were sold one by one to the general public and we want thank everyone for their amazing support, it has been a huge team effort. We have raised £34,000 and the funds will be used to provide 10 new water wells to needy schools in Sierra Leone bringing safe, clean water to around 4,000 thousand needy children."
Winning Car Raffle tickets follows:
1st – 2551    M Morales
2nd – 4603    H Pinna
3rd – 4900    J Fa
4th – 3730    M Martinez
5th – 2816    G Rodriguez
6th – 3405    A Felipes
7th – 3024    P Edge
8th – 3073    K Madeira
9th – 3438    D Podesta
10th – 3831   L Calvente
We sold all 5000 car raffle tickets ! Together we raised £34,000 for our school water projects.
The funds raised where used to fund 10 new water wells in Sierra Leone
A huge thank you to companies that bought booklets and sponsored us….
Abacus –  AquaGib – Bassadone Motors – Calpe Pharmacy – EY – Finsbury Trust – Gebr.Onderwater PK Trucks –  Gibraltar Crystal –  Golf Experience –  GM International Homes –  Hill Property –  Interbuild –  Latino's Casemates –  LPS –  My Wines –  Piranha Designs Gibraltar (PDG) –  Pollos La Casita (Laguna Estate) – PwC – Ramsons – Specialist Medical Clinic – Terramar Networks –  Time Out
Thank you for your amazing support !
Every pound we receive will hit the ground, 100% guaranteed.