A carol singing event was held outside Morrisons store to raise funds for our water well appeal on Saturday 12th December 2015. The event lasted for 10 hours and we enjoyed the participation of 8 local school choirs and local groups "The Rabble" and "The Rendition Singers".
Together we raised £1,826 for our water well appeal !
It was fantastic to see school children in Gibraltar participating in our "kids4kids" project and supporting needy children in Sierra Leone.
Special thanks therefore go to the children, parents and teachers from the following schools:
Bayside School Choir Group
Bishop Fitzgerald Middle School
Loreto Convent School
Notre Dame First School
St Anne's Middle School
St Bernard's Middle School
St Mary's First School
St Paul's First School
Also very special thanks to "The Rabble" and "Rendition Singers" for their support !!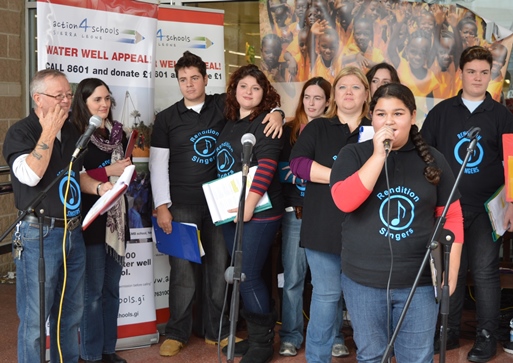 You were all amazing !!!! Thank you for making a difference !!